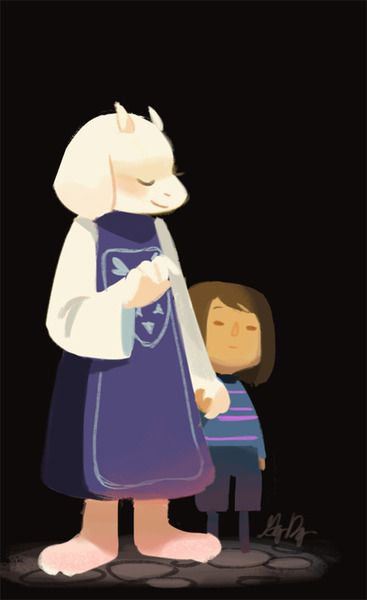 Fanart by Gigidigi
In case you haven't heard, famed Homestuck album musician, Earthbound enthusiast, and all around cool-guy Toby "Radiation" Fox has put out a demo for the game he's making called
Undertale
.
It takes place in a world where in ancient times humankind and monsterkind coexisted, up until the point where they have this great big battle for supremacy and the monsters are driven down into the bowels of the Earth. Much later, in the year 201X, a child goes climbing up Mt Ebott, a place which no one who has gone to has ever returned from. The kid takes a tumble down a big hole and falls into an ancient ruin. You then play as the kid and make your way through the ruins fending off unfriendly yet quirky monsters with some guidance from a friendly monster.
The game takes a lot of cues from the Mother series, in that takes a lot of traditional RPG elements and subverts quite a few of them. One of the neat bits about the battle system is that you have the option of talking the enemies of wanting to hurt you and sparing their lives as well. This gives you a lot less EXP but might make the player feel better as a person knowing that their progress isn't kept by a tally of bodies.
The demo is short and definitely worth a play. Also, be sure to read the instruction manual before you start.